what is Bounce rate?
Bounce rate is one of the most important points in the field of website optimization (SEO). And it means the amount of users entering your site without referring to other pages. The bounce rate is, therefore, the percentage of people who go rather than stay and take a look around your website. This is an alarm for your website and shows that the site is not attractive to users.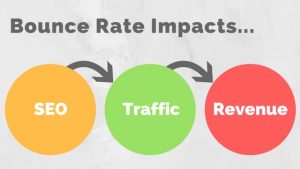 The higher the bounce rate of the site, the negative impact it has on the site ranking. Now, the question is, What Should My Website Bounce Rate Be? In the following, we refer to the factors of bounce rate.
Factors of Bounce rate
The type of traffic you are attracting. You need to pay attention to what your users are looking for. Are they looking for your brand or are they just looking for information?
The design and layout of your website. Sites that are confusing, or look old-fashioned all tend to have higher bounce rates than new clean, easy-to-use, mobile-friendly websites. You can use Optimize to test different versions of your site pages to see which designs encourage users to engage more.
The speed and usability of your website. Slow-loading websites have high bounce rates. According to Google, 53% of mobile users leave a site that takes longer than three seconds to load.
Express the main content of the site. People are busy and distracted, so if they can't find the answer they are looking for,  they'll leave.  This is one of the most underrated causes of high bounce rates.
What is the appropriate Bounce Rate number?
As a rule , you're aiming for a website bounce rate of under 40%. Between 40% and 55% is usually okay, while 55-65% shows significant room for improvement. If your bounce rate is above 90% or below 20%, that often indicates a tracking or code installation error.